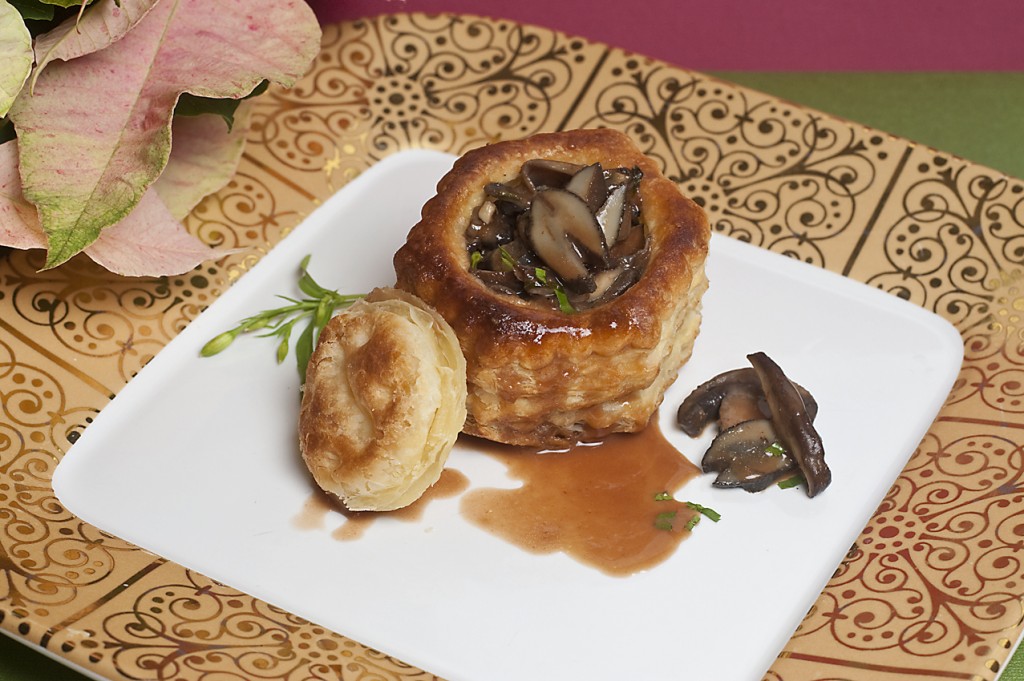 As our Christmas family dinner gathering approaches, we find ourselves busy here at 2gourmaniacs tweaking the menu. Traditionally, our views differ when it comes to puff pastry, but this year my sensible approach to using store-bought puff pastry shells prevailed over the other goumaniac's desire to always make his own from scratch. Besides, I am making the appetizer so it's my decision (and I'm in no way even slightly inclined to learn puff pastry making now!) So what's in these little flaky, buttery, yet light food vessels? I present my "Wild mushrooms and escargot with a bordelaise sauce." Please note that my ingredients proportions are approximate because 1) that's how I cook, and 2) I want these leftovers in my frige.
Ingredients: (8 servings)
1 lb shiitake mushrooms
1 lb baby bella or button mushrooms
1 cup dried mixed wild mushrooms, soaked overnight (i.e., chanterelles, porcini, trumpet), liquid reserved
1 medium-large shallot, minced
1/4 cup chopped parsley
8 sprigs of tarragon for garnish plus several more, chopped, for serving
a splash of vermouth
a splash of lemon juice
Salt & pepper to taste
1  7-8 oz can giant burgundian escargot, chopped, liquid reserved
2-4 Tbsp butter for sauteeing
2-4 Tbsp olive oil for sauteeing
Method:
Preheat the oven to 400 degrees and prepare the puff pastry shells as per package directions. Be sure to bake a few extra shells so you can pick the prettiest ones for serving, and be cautious not to overcook or overly brown the shells.
Meanwhile, melt 2 Tbsp butter in a large nonstick pan and add 2 Tbsp olive oil. Quickly sautée the shallot and add the mushrooms, stirring to coat. Add more butter and olive oil if needed while continuing to cook the mushrooms over medium heat. Pour in a healthy splash each of vermouth and lemon juice and mix well. When the sliced mushrooms are almost golden brown and soft, add the wild mushrooms and some of the soaking liquid. As the mushrooms continue to cook, slowly keep adding small amounts of the liquid until it's all absorbed. This will infuse the mushroom mixture with a woodsy, earthy, mushroom flavor.
When the mushrooms are almost ready, about 20 minutes, add the chopped escargot with some of the liquid from the can, and the parsley. Season with salt and pepper to taste and mix well for a few more minutes, but do not overcook. Reserve some of the escargot liquid for warming up the mushroom-escargot mixture, once puff pastry shells are golden brown and you are almost ready to serve.
Bordelaise sauce:
Ingredients:
2 cups good quality red wine
2 bay leaves
8 black peppercorns
1 small shallot, minced
3 cups of veal stock (or beef stock if veal not available)
6 oz unsalted butter
1/2 cup heavy cream
In a small sauce pan, heat the red wine over low heat with the peppercorns, bay leaves, and shallot until reduced to 2 Tbsp. Add the veal stock and simmer over low heat for 10 minutes. Strain into a smaller sauce pan and discard the bay leaves, pepper, and shallot. Whisk in the butter over low heat, 1 Tbsp at a time. Whisk in the cream. Season with salt and pepper to taste. Keep warm.
Once the puff pastry shells are ready, carefully remove the center cut out portion (which I call "the lid"). Fill the puff pastry shells evenly with the mushroom-escargot sautée mix and place each filled shell in the center of your serving plates. Garnish with tarragon sprigs and sprinkle with a dusting of chopped tarragon. Using a very small ladle, pour the bordelaise sauce on each puff pastry, allowing some to flow into a small pool on the plate. Using "the lid" is optional. Serve and enjoy, at Christmas or any time!
PS: There will be several vegetarians at our table, so we will be sure to reserve some of the mushrooms before adding the escargot, and serve the appetizer with our béchamel sauce.
RSA