I make one of these at least once a year. Usually, I serve it as part of a large buffet spread. But I decided to make one for Christmas dinner last week. The procedure is basically very straightforward. Take a whole salmon, place it in a fish poacher, cover it with simmering fish stock or court bouillon, and poach for 35 minutes. When done, remove it from the court bouillon, allow it to cool to room temperature and "glue" on the cucumber scales with a dill-horseradish sauce.
A few key things to remember: first, you need a good fish stock or court bouillon; second, you need a fish poacher that will hold the entire salmon; and third, it's really helpful to have an electric or mandoline slicer to cut the cucumber scales.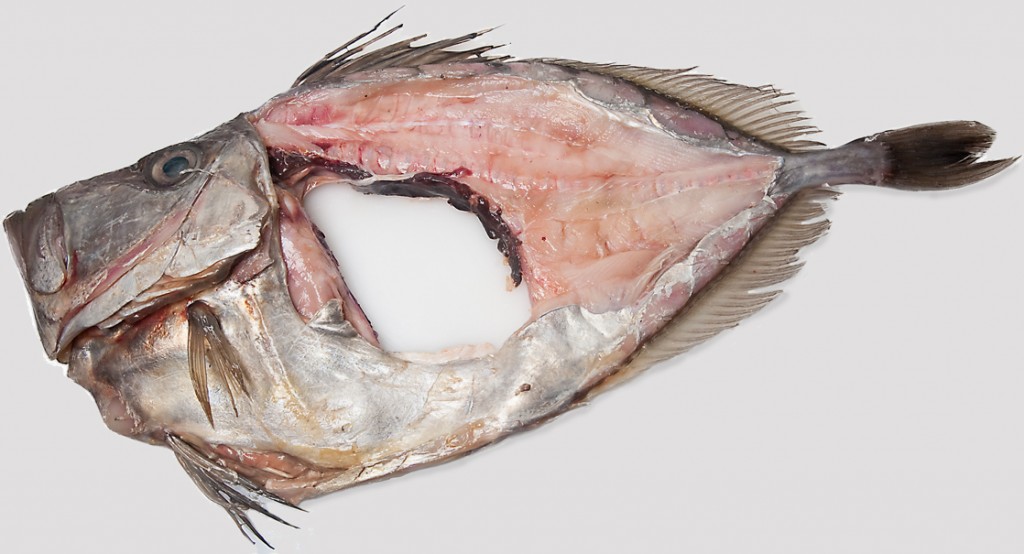 The good news is that making fish stock or court bouillon is simple, and quick.
Ingredients:
8 lbs of assorted fish head, tails, and racks (the picture above is of one of the two John Dory I found at my fish market; but basically any species of fish will do). Try to find the least oily ones possible, in other words, pass on bluefish and mackerel.
1 large yellow onion sliced
1 cup diced peeled carrots
1 large fennel bulb sliced
3 leeks, washed and sliced, white parts only
8 qts water
2 cups white wine
2 ½ gal. stock pot, or larger
1 bouquet garni, as follows:
6 cloves of garlic, skins removed and mashed with a kitchen knife
1 cup of Italian parsley bunches
2 bay leaves
1 Tbsp black peppercorns
Take the above 4 ingredients and wrap them in a 12"x12" piece of cheese cloth, roll it like a burrito and tie it with a piece of kitchen string.
Method:
Cut up the fish into fist size pieces, place them in a stock pot and rinse well with cold water. The idea is to wash off any blood, scales etc. After rinsing, remove the fish pieces from the stockpot, add in all the above ingredients, except the bouquet garni, and bring to simmer. Add the fish pieces and the bouquet garni, return to a simmer, and let it chug along for an hour and-a-half. Then remove from the heat, and strain the contents into a large bowl(s), preferably through a chinois or other fine meshed strainer.
To poach the Salmon:
Ingredients:
1 large whole salmon, gutted, scaled and rinsed, head and tail removed
Simmering court bouillon, enough to almost cover the salmon once it is placed in fish poacher.
Method:
Place the cleaned and prepared salmon in the fish poacher and pour the simmering court bouillon over it. Place the poacher lid slightly askew so that most of the vessel is covered. Return the court bouillon to a simmer and poach for 35 minutes. (Note: my salmon was 30 inches long with head and tail on. If you have a smaller fish adjust your poaching time using the rule of 10 minutes per inch of fish thickness).
When your salmon is poached, remove from the poacher and allow it to cool to room temperature. Make sure you save the poaching liquid for sauces or further poaching uses as it freezes well indefinitely.
For the Cucumber "Fish Scales" and Dill-Horse Radish Sauce:
Ingredients:
1-2 English cucumbers
2 cups fresh dill finely chopped, stems discarded
3 Tbsp horseradish sauce, or more according to taste
2 cups sour cream
¾ cup mayonnaise
juice of two lemons
3 Tbsp Mirin (optional)
1 Tbsp fish sauce (optional)
salt and pepper to taste
Method:
The key to the "fish scales" is uniform, thin cucumber slices, around 1/16 inch thickness. If your knife skills are good and you have the patience, it's possible to cut the slices by hand. My slicing disks for my food processor don't cut thin enough, so that wasn't option for me. Fortunately, I have small electric Krups deli-style slicer that someone gave me a long time ago. I think this is the only thing I've ever used it for, but it is perfect for the job.
Slice as much cucumber as you need to totally cover the poached salmon (any leftovers can be used in a salad). Prepare the dill-horseradish sauce by combining all the other ingredients above in a mixing bowl. Be sure to taste and adjust seasoning and horseradish to your palate.
Finally, plate the poached salmon on a large serving tray, platter, or in my case on dedicated salmon server. (Thanks to our friend, Maria, who gave it to me many years ago.) Brush on a thick layer of the dill-horseradish sauce all over the exposed salmon flesh, and starting at the tail add the cucumber slices, slightly overlapping them as you work towards the head of the fish.
To Serve:
Remember, the whole poached salmon has all its bones in it. It is best to serve starting at the head of the fish and cut down as far as the spine, turning the knife blade 90 degrees towards the tail, and slice along the bone. Cut the filleted pieces into individual serving portions and serve with a small spatula; spoon a dollop of dill sauce next to each individual piece of plated salmon.
Note: You or your fish market could filet the salmon prior to poaching in order to remove all the bones. If you proceed in that direction, you mush exercise great caution when moving the salmon once it is poached so that it doesn't break or crumble.  And for the real poached salmon die-hards, I urge you to consider a post I did a year ago about "gluing" the salmon fillets prior to poaching.
RMA