I've had chocolate cake on the brain for over a month. I keep saying I'll make one, and then something comes up where I just don't get to it. This past Saturday 2GourManiacs hosted Talero Tequila's coming out Hampton's dinner event with a small party chez 2GM. Obviously, the culinary theme had to be Mexican and we used tequila as an ingredient in every dish – and beyond.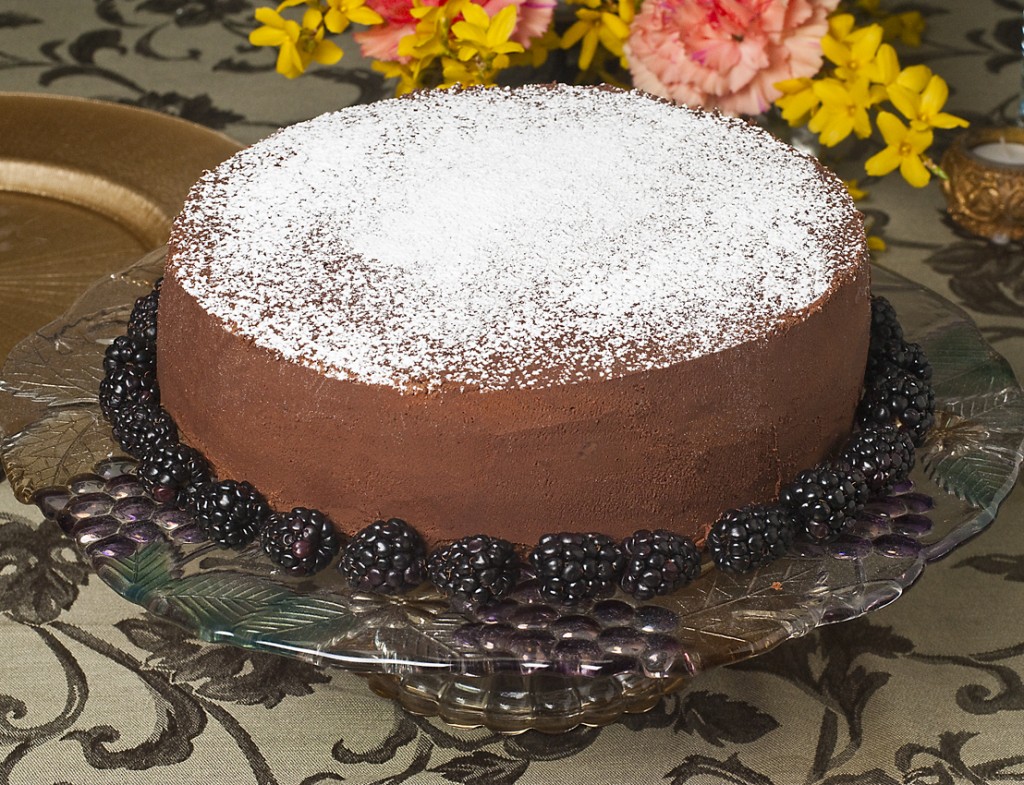 So for our little soiree's dessert, I made Robert's Best Chocolate Cake Ever with a Chocolate Espresso/Cardamom Crème Anglais Sauce. Just writing the title gives me a sugar rush: and, hey, great news, there was no butter in this cake! Oh sure, I realize that "Best Cake Ever" is a big, fat claim, but I think I can say without fear of contradiction from anyone at my table Saturday night, it was the best chocolate cake ever. And, as we all know, chocolate originally came from Mexico in the form of cacao beans. The day Cortez showed up and rowed ashore, the Aztec's elite were sitting around, sipping on a bitter tea made from cacao. (Bad day for the locals to be just sitting around with cups of hot chocolate in their laps, cooling their heels; but I digress and editorialize.)
My chocolate cake is made from two layers of chocolate genoise, it's filled with a raspberry cream that has a little gelatin in it, and it's frosted with a chocolate ganache spiked with 2 tablespoons of cognac. I'll talk about the chocolate espresso/cardamom creme anglais after we get through the cake.
For The Cake:
I list the cake's components in a chronological sequence. Make the raspberry puree first because it takes up to five hours for the frozen raspberries to thaw. Make the raspberry cream with the raspberry puree and gelatin last, because it will begin to set quickly.
For the raspberry puree:
Ingredients:
Two 12 oz frozen bags of frozen raspberries
2 teaspoon of  fresh lemon juice
Empty the raspberries into a strainer or colander to drain over a bowl for four or five hours. After the raspberries have thawed, gently mash them with a rubber spatula to extract as much juice as possible. Take the rendered juice, transfer to a small heavy sauce pan and gently reduce to ¼ cup over low heat. (Warning: the raspberry juice will overflow your sauce pan if you let it boil and get too hot! I know because it happened to me while I took a phone call. I ended up having to take the burner apart to clean it.) Once you have the juice reduced, put it and the reserved raspberries in a food processor, blitz until pureed, empty into a bowl and add the lemon juice. Any leftover puree freezes well, or it can used to decorate the dessert plates.
For the Two Chocolate Genoise Layers:
Two 8 ½ inch springform cake pans, greased and floured.
Ingredients:
8 oz. or 230 grams of bittersweet chocolate
1 cup boiling water
8 large eggs
1 cup (or 7 oz. or 200 grams) of sugar
1 ½ cups (5.25 oz. or 150 grams) of sifted cake flour (I use Swan's Down)
Method:
Pre-heat oven to 350 degrees
In a heavy 2 quart sauce pan boil the water and the chocolate together until the chocolate melts. Reduce heat to a simmer, keep stirring the mixture until you have a melted pudding-like consistency, about 4-5 minutes. Off heat, and cool to room temperature. (If you're in a hurry, scrape the hot chocolate pudding into a small metal bowl and place it in a prepared ice water bath.)
In an electric mixing bowl, beat eggs and sugar with a whisk attachment (if using a Kitchenaid mixture) until the eggs have about tripled in volume, 5-7 minutes depending upon your mixture. Once the eggs are beaten sift half of the cake flour over them, gently fold into the egg/sugar mixture then fold in the remaining half of cake flour. Be sure to thoroughly incorporate the flour: it's easy to miss a couple of "pockets" of flour in the beaten eggs, and the idea is not to let the eggs/sugar deflate in volume. It sounds harder than it is. You'll see. Now fold in the cooled melted chocolate. Again, the idea is to incorporate all of the chocolate into a homogeneous batter while keeping as much air in the eggs as possible.
Immediately pour batter into the prepared cake pans and bake at 350 degrees for thirty minutes or until a cake tester comes out clean. (Resist the urge to open the oven door until after twenty minutes; you don't want your cakes to fall.) When they're done, remove from the pans and place them on a wire rack.
Chocolate Ganache:
Ingredients:
12 oz (340 grams) of bittersweet chocolate
1 and 2/3 cups (13.5 oz or 385 grams) of heavy cream
2 tablespoons of cognac
Method:
Break up the chocolate into small pieces and put them in the food processor. Heat the cream to boiling, and with the food processor's motor running pour the boiling cream through the feed tube. Blitz for several seconds until smooth and creamy. Scrape the ganache out of the work bowl into a metal bowl and let it completely cool. Then whisk in the cognac.
For the Raspberry Fruit Filling:
Ingredients:
1 cup heavy cream
½ cup (4 oz. or 114 grams) raspberry puree, unsweetened (see above)
1/3 cup + 2 tablespoons or 2.25 oz or 61 grams sugar
1 tablespoon tequila
1 ½ teaspoons powered gelatin
Method:
Put half of the raspberry puree in  small non-metal bowl with the gelatin, mix well, and zap it for several seconds in the microwave. It shouldn't be hot. Add to the rest of the raspberry puree. Meanwhile, beat the heavy cream in a chilled mixing bowl until soft peaks are formed, and then add the sugar until the beaten cream is stiff. Remove from the mixer and fold in the raspberry puree and the tequila.
Basting syrup for the cake layers:
I, along with many others, find that brushing the cake layers with a water / sugar syrup right before filling and frosting makes the cake moist and extremely flavorful. Believe me, you've gone this far, several more minutes are well worth it.
Ingredients:
¾ cup of water
¼ cup + 2 table spoons or 3 oz or 90 grams sugar
2 tablespoons of Kalhua
Method:
Place the sugar and the water in a small sauce pan, bring to a boil; off heat and cover with a lid to prevent evaporation. Right before using, add the Kalhua.
After all that, it must be time to assemble our cake. The first thing to do is to take both cake layers and cut them into equal heights. I find this is best accomplished with a cake saw, something I've had for over twenty five years. Don't have one? Get a serrated bread knife and work the blade around the perimeter of the cake and then carefully cut through the cake. Basically you want to trim both the tops and the bottoms, so that each layer is the same in height.
Next you want to paint your layers with two coats of the syrup. As they get permeated with syrup, they become fragile and they easily break so make sure you adequately support them as you turn them over and move them about.
Now take a dollop of ganache and smear it on the plate on which the cake is going to be assembled. I like to use a cardboard cake round because it makes moving the assembled cake much easier. Put one layer down on the plate, take all of the raspberry cream and evenly spread all over the top of this layer. Transfer the plate with cake layer and filling to the refrigerator for about fifteen minute so the gelatin can set up. When time's up, bring the cake back and place the top layer on top of the set raspberry filling. Get the edges lined up, and start frosting the cake with the chocolate ganache. To get a smooth, even coat all over you're going to need cake spatulas. I have several of different lengths, and I found that I used all of them for this cake. If you don't have cake spatulas, a regular rubber spatula will do nicely. Just be creative with the final flourish and designs that you add to the frosting. When done, place your cake in the refrigerator for several hours to set, and remove a good forty-five minutes before serving.
Now that wasn't so bad was it? Hey, who knows? Maybe if the Aztecs had some of this cake instead of cacao tea to offer to Cortez and his crew things would have turned out better for them. Okay, I can see a couple of you are itching to know about the chocolate espresso/cardamom crème anglais. Basically, it's a turbo charged dessert sauce. Here's how I made it — and the good news is you can make it a day or so before you make the cake.
Chocolate espresso/cardamom crème anglais
Ingredients:
2 tablespoons ground cardamom (preferably from whole green cardamom)
8 medium size chocolate espresso beans ground fine in a spice or coffee bean grinder)
1 cup milk
4 large egg yolks
2 tablespoons sugar
pinch of salt
2 tablespoons of your liqueur of choice (I used tequila because of the venue, normally, I'd use Kalhua)
Method:
Place the cardamom and the ground espresso beans in a small sauce pan with the milk, bring to a boil, then off heat and cover with a lid. Let the spices and espresso steep for several hours, then strain. Reheat the milk to boiling.
In a medium size sauce pan, mix the egg yolks, sugar, salt until well combined. Add several tablespoons of the hot milk and whisk together, then add the rest of the milk. Have an accurate thermometer ready; gently heat the egg and milk mixture to 170 – 180 degrees Fahrenheit. Remove from the heat, careful not to overcook and curdle the egg yolk. Pass through a sieve, and cool to room temperature. This can be used as an optional sauce under the cake.
RMA