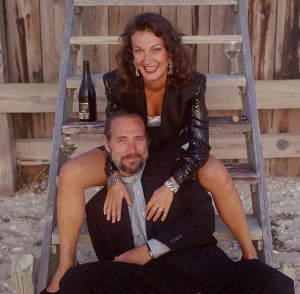 Robert and Rosaria moved from Manhattan to Southampton, on the east end of Long Island, eighteen years ago, where they raised their two children while growing their businesses. Rosaria was born in Sicily and initially moved to the United States when she was a teenager. She comes from a family background long associated with agriculture and food in northwest Sicily.  Her family's agricultural background is diverse and, among other aspects, is involved in the olive oil business as well as wine production, both in Sicily and Tuscany.  Fluent in Italian as well as the Sicilian dialect, she loves to cook, has a remarkable recollection of Sicilian cuisine from her childhood, and she's just a phone call or a forty minute ride to her mother's kitchen.
Robert has had a life long career as a photographer. He has traveled and photographed globally, and his work has appeared in many major national and international publications. He is an accomplished woodworker and he built all the custom cabinetry in his kitchen and dining room, which he and Rosaria designed. His love of food and cooking spans a lifetime. He learned classic cuisine from Julia Child, and he went on to mastering Italian cuisine, nouvelle, and most recently Southeast Asian cuisine. Among other things, he has been a private chef on the East End of Long Island for the past ten years, cooking for friends, family and various special events.
Together, Robert and Rosaria bring an experience and expression of fine food, elegant entertaining mixed with delight and attention to detail that can only come from doing something that one truly loves.