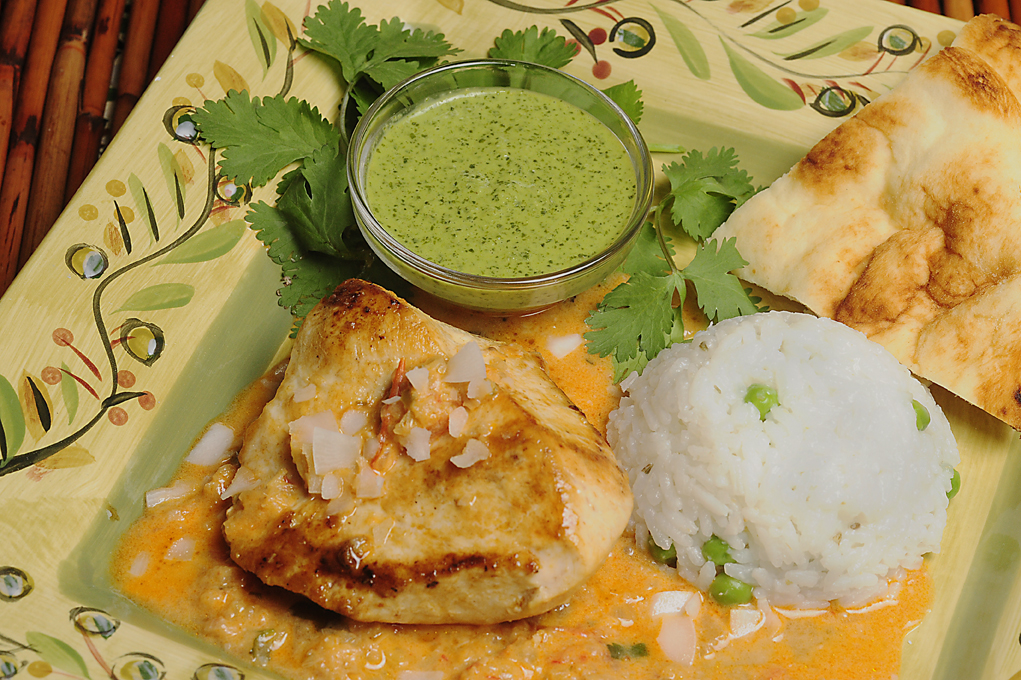 Swordfish in Chilli, Coconut and Lime-scented Sauce
with Jasmine rice, Naan, and Herb Chutney
The remarkable thing about Indian cuisine for my family is that we inevitably want more. That is, every mouthwatering bite which we cannot possibly consume during a dining feast shared at our favorite Indian restaurants (unless you happen to be my voracious 18 year old son) we crave the next day, when the previous night's dinner is only a memory. The solution of course is to make our own Indian dinner at home. This is not a hardship for a family that has always "appreciated that an Indian meal was not a heap of rice covered with a slurry of curry."  (rasoi: new indian kitchen)
Following a recent dining experience at Vatan, one of our preferred NYC Indian vegetarian spots, I searched through our 2gourmaniacs extensive cookbook library and got inspired for my next Indian meal by Vineet Bhatia's beautiful and elegant book "rasoi: new indian kitchen." In the foreword, the chef explains how he "was saddened by the representation of Indian cuisine and determined to change the perception of Indian food outside his native land." Well done, I might add, since Bhatia is the recipient of the first Michelin star ever awarded to an Indian restaurateur.
Below is my adaptation of Bhatia's "prawns poached in chilli, coconut and lime-scented sauce".  I tweaked the recipe and changed several proportions, to allow for extra spiciness, and I used individual portion pieces of swordfish instead of prawns, which I pan-seared prior to poaching in the sauce.
Ingredients (for 6 servings):
6 Tbsp vegetable oil
1 Tbsp chopped garlic
2 large onions, finely chopped
2 Tbsp fresh ginger, grated or finely chopped
4 small green chilis, finely chopped
1 stalk lemongrass, 4" of light section, chopped
1 pint cherry tomatoes, quartered
8-10 kaffir lime leaves
2 cans coconut milk
1 Tbsp red chilli paste
6 swordfish steaks
unsweetened coconut flakes or fresh grated coconut
spray cooking oil
salt
In a large sauté pan, cook the garlic in the vegetable oil until lightly golden. Add the onions, ginger, and green chilis and sauté for several more minutes. Add the lemongrass and lime leaves, and let the flavors blend over low heat for 5 minutes. Stir in the tomatoes and chili paste and cook for an additional 5 minutes. Pour the coconut milk in the pan and bring to a boil, then simmer over low heat for a few minutes. If using dry coconut flakes, add them to the sauce now; if fresh grated coconut is available, sprinkle on the plate as garnish when ready to serve. Meanwhile, heat a cast iron skillet, spray with cooking oil and sear the swordfish portions, about 2 minutes per side, until the steaks get a lightly golden-brown crust. Remove swordfish pieces from skillet and add to the sauce. Cover and allow the fish to poach for about 7 minutes, until cooked through, depending on thickness of steaks. Serve with jasmine or basmati rice with green peas, naan bread (optional) and herb chutney.  (see my recipe below for some of the best chutney ever!)
RSA's Awesome Herb Chutney (yields about 2 cups):
1 bunch mint leaves
2 bunches cilantro leaves
1 bunch watercress leaves and tender stems
½ cup green onions
4 small green chili peppers
3 Tbsp fresh ginger
2 tsp ground cumin
2 tsp ground coriander seeds
a squirt of honey or a pinch of sugar
juice of 1 lime
1/3 cup plain Greek yogurt
1/3 cup vegetable oil
¼ cup water, or more, to achieve desired consistency
salt
Place first 10 ingredients in a food processor bowl and pulse for several minutes, to blend. Meanwhile, drop the liquids through the feed tube and continue to pulse until mixture is bright green and finely blended. Add the yogurt to the bowl and continue to pulse until the chutney is well processed and smooth. Salt to taste, and pulse to blend. Serve as a dip, condiment or sauce, or use as a marinade. Will keep nicely in refrigerator for several days.  Enjoy!
RSA
Vatan's Vegetarian Feast