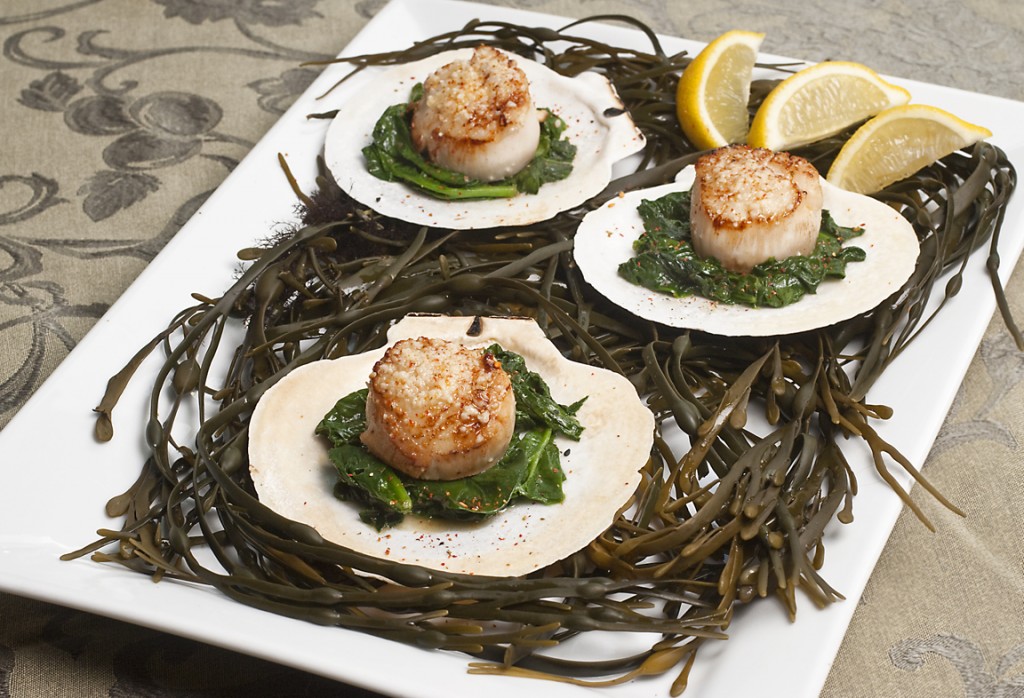 "So, what do you like best about Prince Edward Island", someone asked me on Facebook last week?
"Almost the entire island is a farm", I replied.
Well, not just one farm, rather many small, pristine working farms. There are Holstein cows everywhere, a variety of tubers are just beginning to be harvested, and local corn is still readily available. I really like the way farmland rolls right down to the ocean's edge. And of course, in the most of bays and estuaries of PEI, the tranquil water is dotted with matrices of black buoys bobbing up and down marking the farmed blue mussel "socks".  Aqua farming is a large business, both for mussels and Malpeque oysters. And, so is lobstering and fishing.
But, just as a sort of culinary handshake with the place, the other Gourmaniac and I served ourselves up a quick appetizer of arguably the best sea scallops we've ever had the pleasure of eating, let alone preparing. It does help to have the freshest scallops on hand, but it's also important not to overcook them. The center of the scallop should be translucent and have a briny, nutty taste as it melts in your mouth.
Ingredients:
4-6 Large Sea Scallops
Juice of 2 lemons
4 Tbsp vegetable oil
4 Tbsp unsalted butter
12 oz or 2 bunches of washed, fresh spinach
pinch of nutmeg
5 Tbsp fresh grated Parmesan cheese
Salt & pepper to taste
Parika, Chili powder, or Aji Japanese Seasoning
Method:
Marinate the sea scallops in the lemon juice and vegetable oil for at least 60 minutes.
In a large sauce pan, melt 1 Tbsp of the butter with the nutmeg over high heat; add the spinach, grind some salt and pepper, mix well, and cover. Cook for a minute or two, stirring once or twice until wilted, and remove from heat.
In a heavy sauté pan or non-stick skillet, melt the remaining butter until hot, not smoking, and sauté the scallops about a minute per side. Off heat.
Use a small dish to plate or, as we did, I used large scallop shells which I found on the beach. Take a small amount of the wilted spinach, place on the center of the shell or plate, then top with the sautéed scallop. Sprinkle a little of the Parmesan cheese on top of each scallop and run under the broiler or salamander for less than a minute, until the cheese partially melts and starts to become bubbly. Sprinkle with paprika or your favorite red seasoning powder and serve immediately.
In our case we washed our scallops down with local PEI beer, Island Red; but a good, crisp chardonnay would equally complement this appetizer.
RMA