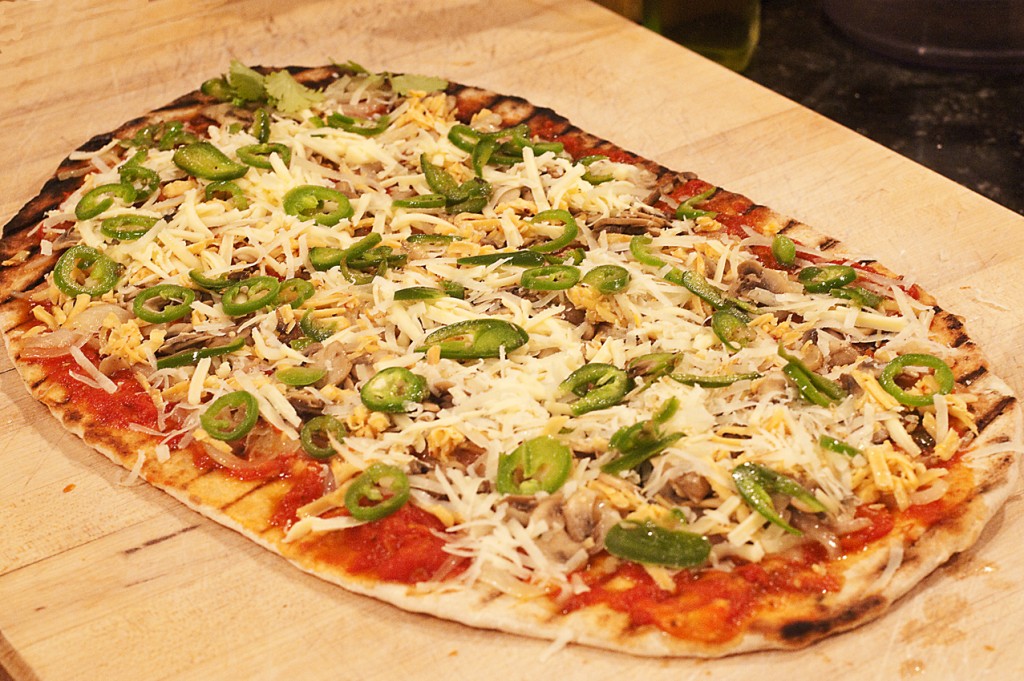 Got leftover Mexican food stuff from Cinco de Mayo? If so, just round up those piquant Mexican cheeses and crunchy jalapeños and start making some pizza! We recently did just that, and it was exquisito. Depending on how "top heavy" you prefer your pizza, you can alter the amounts of each ingredient below to your liking.
Ingredients:
1 ready-made pizza dough (we used whole wheat), thawed
2 large tomatoes, sliced
1 cup tomato sauce, preferably home made
1 large onion, thinly sliced
2-3 fresh jalapeños, sliced into rounds and seeded
1 small box baby bella or button mushrooms, sliced
¾ cup each fresh grated Monterey Jack, Manchego, and hot pepper Cheddar cheese
½ cup chopped cilantro
¼ cup chopped basil
Olive oil
Flour
Method:
Lightly sauté the onions, mushrooms, jalapeños, and tomatoes separately. Warm up the tomato sauce and add the sautéed sliced tomatoes. (We did this to use up the fresh tomatoes; alternatively, you can just use chunky tomato sauce or diced tomatoes).
Turn on your grill to medium heat, making sure the grates are well oiled to prevent sticking. Meanwhile, roll out the pizza dough on a floured work surface; stretch it out with a rolling pin until it achieves your desired shape. Rectangular works best for grilling.
Using a cookie sheet or a pizza peel, transfer the pizza dough on the hot grill for several minutes until it has light brown grill marks. Return pizza dough to work surface, turn over and begin adding toppings to the grilled surface. We typically start with a sprinkle of olive oil all over the grilled pizza surface, followed by evenly ladling the tomato sauce, then layering all other ingredients: in this case the onions, mushrooms, cheeses, and jalapeños.
Return the topped pizza to the grill and cook the underside for about 5 minutes, until the crust looks nicely golden brown. Remove pizza from grill, return to working surface. Add the chopped cilantro and basil, cut with a pizza wheel and enjoy while it's caliente.
RSA