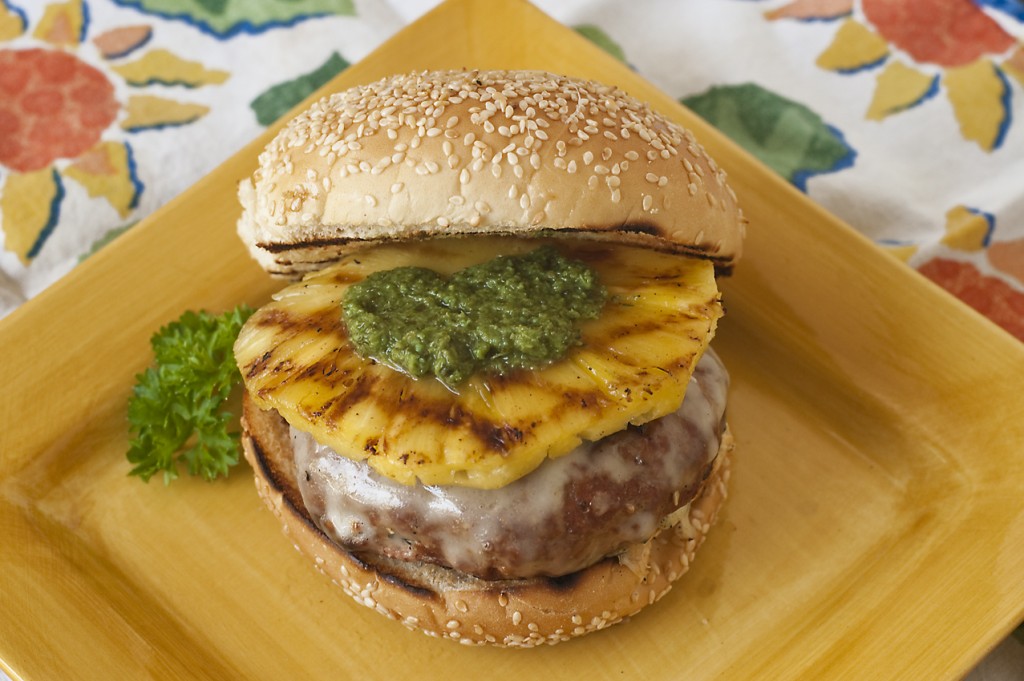 Curried Turkey Burger with Grilled Pineapple and Coriander Chutney
This weather has been brutal! What are you gonna do when the heat index is sailing into triple digits and you feel like a wilting petunia? Get down with some ice-cold beer or a chilled glass of wine and my "Curried Turkey Burger with Grilled Pineapple and Coriander Chutney"! Get your tropical beat going, sashay around that grill with your favorite beverage in hand, cooling your brow… and bring these Tropical Burgers Deluxe to soaring, piquant deliciousness!
Ingredients:
1 lb ground turkey or beef
3 Tbsp red curry paste
1 egg
¼ cup bread crumbs or panko
¼ cup chopped cilantro
1 tsp liquid smoke
1 Tbsp garlic powder
Salt & pepper to taste (about 1 tsp each)
Other items needed:
4 slices provolone (or other cheese)
4 slices pineapple (preferably fresh)
4 buns, sliced open
Coriander chutney (I buy Swad brand at Indian grocery stores)
Mix all ingredients in a large bowl, blending well. If necessary, add more breadcrumbs or panko until the right consistency is achieved to shape mixture into four patties. Cover and refrigerate for at least one hour. Grill patties on a preheated medium-hot grill until center liquid runs clear when a toothpick or skewer is inserted, about 3-4 minutes per side. Meanwhile, grill the pineapple slices until lightly scorched (on that note, remember to enjoy that chilled drink!)  Top each patty with the provolone cheese slices, turn off heat, lower lid, and let the cheese melt and the burgers set. Add the sliced buns and quickly char slightly.
Remove all items from grill. Arrange the four patties on the four buns. Top each burger with a grilled pineapple slice, a tablespoon of Coriander Chutney (or your favorite condiment) and serve sizzling hot –along with more cold drinks.
RSA