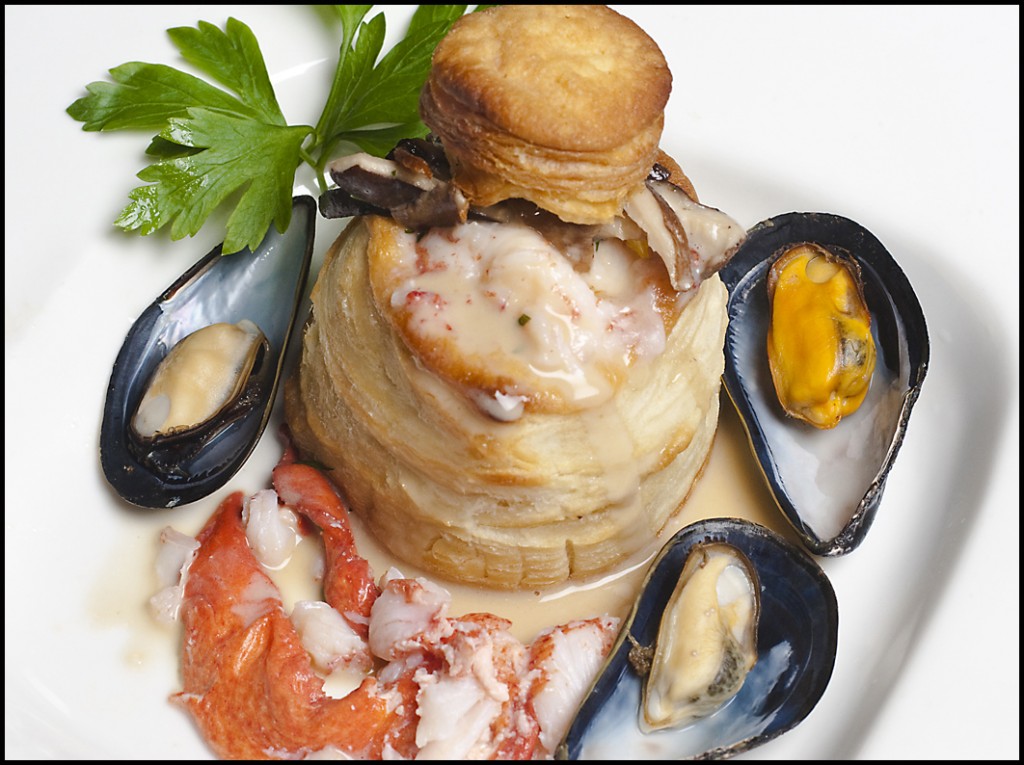 On the return car ride from Prince Edward Island, I overnighted in Portland, Maine with the other Gourmaniac. It's one of my top 5 cities in the US. I have a long history with the place starting when I was 8 years old and on my way to summer camp in Waterford, Maine. A hundred other young campers and I took the overnight train from Grand Central Station to downtown Portland. The Pullman cars we had traveled in discharged us right on to Commercial Street. Has Portland changed since!
We go out of our way to spend at least one night in Portland whenever we can. There are fantastic restaurants in the old part of the city as well as great ones in South Portland. Equally important for us is the chance to fill up our largest coolers with fresh seafood from Harbor Fish Market, right off Commercial St. No offense to our local fish markets on eastern Long Island, but there are few fish markets that can compare with Harbor Fish.
On one of September's last days, the Gourmaniacs were the first customers at Harbor Fish. Things were already hopping inside. As we made our selections, I couldn't pry my attention from a fishmonger breaking down an entire 300 pound swordfish. We took as much fresh swordfish as we could reasonably eat for the next couple of days. As an added bonus, I walked away with the swordfish's huge backbone, which I'll use for fish stock soon. Another treat was a huge fillet of salmon from the Faroe Islands in the western Norwegian Sea.
Additionally, the other Gourmaniac insisted on a couple of 2-lb hard shell Maine lobsters. Did you know that if you purchase soft shell lobsters, you will need to cook them within 4 hours of leaving the lobster tank, whereas the hard shell ones can survive 12-24 hours if packed on seaweed and ice packs? So off we went, with a trunk loaded to the gills with fish, and I thought: how about sous vide lobster?
(Here's a link for sous vide 101_ http://www.sousvidesupreme.com/en-us/sousvide_cooking_videos.htm?gclid=COmop5Wi_rICFQSe4AodjnAA9w)
For years, I've employed a version of Thomas Keller's butter poached lobster. I slightly altered my method to accommodate lobster sous vide.
First, I removed the lobster meat from the tails and claws after gently poaching the whole lobsters in boiling water for about a minute. The meat was still translucent and barely warm. Then, about an hour prior to plating the lobster in puff pastry, I sous vide the lobster meat guaranteeing the most tender, succulent lobster imaginable. This was the third or fourth time I've made lobster sous vide in the past six weeks; it's really hard to eat lobster any other way now.
Lobster in Puff Pastry with PEI Blue Mussels and Shiitake Mushrooms
Serves 4:
This sounds more complicated than it is just because there are several steps involved; however, if you choose to have home-made puff pastry, I suggest you make it a day or so before serving the lobster in puff pastry. (Puff pastry dough freezes really well.)
Ingredients:
1 lb Puff Pastry dough, preferably homemade (substitute frozen store bought). If you want to side step the whole puff pastry experience altogether, you can use 3 inch ramekins to serve the lobster.
For "steeping" and removing the lobster meat see my post:
http://www.2gourmaniacs.com/food-writing/the-first-thing-to-do-with-a-lobster-not-for-the-faint-of-heart/
For Lobsters:
2  2-lbs hard shell lobsters
3  Tbsp unsalted butter
1  Tbsp mirin
2  Tbsp Asian fish sauce
2  Tbsp chopped tarragon
Once you extract the lobster meat, place it in a vacuum bag and add 3 Tbsp butter, mirin, fish sauce, and tarragon. Seal the bag and place it in the sous vide water oven, or container with a circulator, and set the temperature to 133⁰ Fahrenheit. Cook for at least 45 minutes and no longer and 2 hours.
For Puff Pastry:
Instead of adding puff pastry instructions here, I'd rather direct you to my original mentor, Julia Child. I've tried many different ways to make puff pastry, and I always come back to hers.
http://cookingwiththemasters.com/2010/08/puff-pastry-julia-child-michel-richard/
For the mussels:
3 lbs PEI blue mussels
¼ cup white wine
½ medium onion, diced
1 bay leaf
To cook the mussels, bring the diced white onions and white wine to a boil in a heavy large saucepan or small stockpot. Add the mussels and cover. Cook over high heat for several minutes until all the mussels have opened. Remove from heat and cover.
For shiitake mushrooms:
½ lb shiitake mushrooms, stemmed and sliced
3 Tbsp olive oil
4 cloves garlic, minced
1 Tbsp lemon juce
Heat the olive oil in a sauté pan and add the chopped shiitakes and garlic. Over low heat, sauté until the mushrooms are lightly wilted and have released their moisture, about seven minutes. Sprinkle with lemon juice and set aside.
For the Sauce:
4 cups lobster stock (can substitute fish stock)
1 bay leaf
6 whole black peppercorns
1 slice white bread
1 shallot, diced
½ cup white wine + 3 Tbsp
¼ cup heavy cream
4 Tbsp unsalted butter
Pour the ½ cup white wine in a 2 quart sauce pan with the diced shallots, pepper, and bay leaf. Reduce over medium heat until there's about 4 Tbsp of liquid left. Add the lobster (or fish) stock. Continue to reduce over medium heat to about 2 cups. Remove from heat and strain. Rinse the saucepan and return the strained stock to it.
Remove the crust from the bread. Tear the crumb into small pieces and soak in a small bowl with the 3 Tbsp white wine. Once thoroughly soaked, add bread to the stock in the saucepan. Simmer for several minutes, gently beating it with a whisk, or better yet, an immersion blender. Finally add the butter, whisking well, then the cream. Taste and season to taste with salt and pepper. The sauce should be thick enough to coat the back of a wooden spoon.
For the puff pastry Bouchée (Patty Shells):
Follow Julia Child's instructions for making bouchée (puff pastry patty shells) or simply warm your ramekins in a microwave and prepare to plate.
Plating:
Warm the dinner plates. Using bouchées that have just finished baking or warming in the oven, place ½ a lobster tail in each. Add chunks of lobster meat from the knuckles and some shiitake mushrooms. Place the meat of a whole, hopefully intact, lobster claw next to the puff pastry and arrange several of the mussels in their shell around the plate. Carefully spoon some of the sauce into the puff pastry, allowing it to overflow gently onto the plate. Garnish with a parsley or tarragon sprig, and serve.
RMA