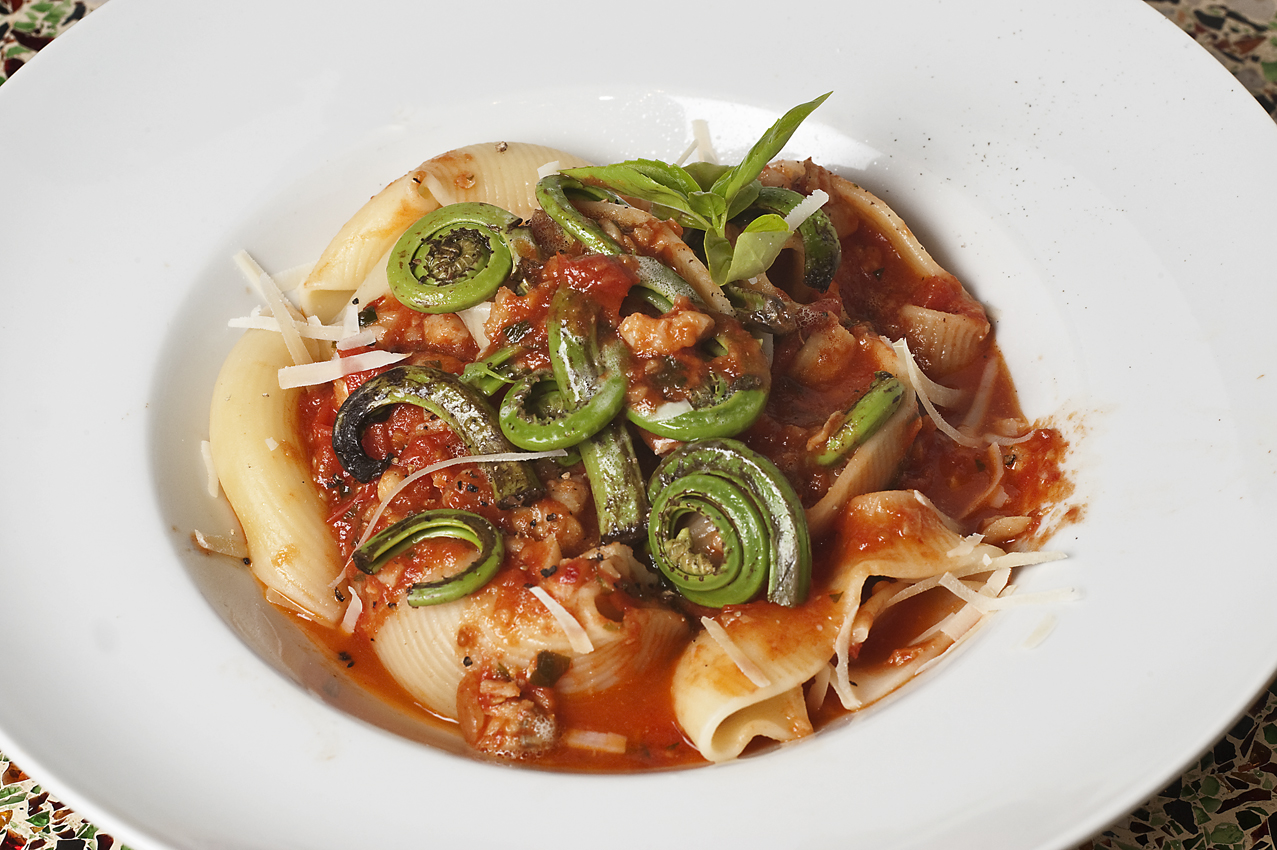 Lumaconi with Garlicky Seafood Tomato Sauce and Fiddleheads

I'm fairly certain that we recently bought the very last of the fiddleheads coming from somewhere in northern New England. Surprisingly, we found them at one our local supermarkets as opposed to our local gourmet green grocer. We're always in the mood for seafood and pasta, so I came up with this new way to prepare the short-lived fiddleheads that we love to eat in late spring. In this recipe, the fish was quickly cooked in garlicky tomato sauce, then tossed with a pasta that traps the pieces of fish and sauce in its hollows. First the fiddleheads were steamed and then sautéed. The prepared fiddleheads can then be added to the sauce at the last minute to preserve their crunchiness, or reserved and arranged on the pasta after it's plated. I chose to use Setaro's Lumaconi, a giant snail shell shaped pasta. Another ideal choice is paccheri, which is a large hollow tube pasta. Both types of pasta are very good options for stuffing and baking.
Ingredients (for 6 servings)
¾ – 1 pound cod fillet (or fluke or sea bass, or a combination)
½ pound fiddleheads (if not in season, substitute asparagus tips)
⅓ cup extra-virgin olive oil for cooking
6-8 garlic cloves, crushed and peeled
¼ cup (or more) minced onion or shallot
½ teaspoon (or more) peperoncino (red pepper flakes)
½ teaspoon kosher salt
3 cups on-the-vine or campari tomatoes, chopped and crushed
1 tablespoon Italian parsley, chopped
1 tablespoon freshly chopped basil, plus 6 small bunches for garnish
1 pound lumaconi pasta
Freshly grated Parmigiano cheese (optional)
Bring a large pot of salted water to a boil for the pasta. Meanwhile, rinse the fiddleheads several times until the water is clean of debris. In a smaller pot, steam or boil the fiddleheads for about 10 minutes, then sautée them for at least 5 minutes in olive oil or butter, and set aside.
Cut the fish fillets into into 1" strips. Pour 3 tablespoons of the olive oil into a big skillet, toss in the crushed garlic and red pepper flakes, and cook over medium-high heat until the garlic is fragrant and lightly golden. Spread out the fish in the skillet so the pieces don't stick together while cooking, and let them sautée for a minute or so per side. Remove fish from heat with a slotted spoon when the flesh is opaque. Add the crushed tomatoes and vegetable or fish stock. Raise the heat and bring the tomato sauce to a bubbling steady boil. Season with salt and pepper to taste. Adjust the heat to keep the sauce simmering while you start cooking your pasta.
When the tomato sauce has bubbled for 5 minutes, drop in the fish and stir to mix sauce well, cover the pan and keep it simmering. As soon as the lumaconi pasta is cooked al dente, drain briefly in colander, and drop it into the pan of simmering sauce. Toss the pasta, fish, and sauce, coating and filling the lumaconi hollows. Divide into 6 warmed pasta bowls, add some cheese (if using), top with the sautéed fiddleheads, basil and parsley, and serve up immediately.
RSA