Perline pasta with chopped clams, tomatoes, and herbs served in a clam shell

The 2Gourmaniacs are crazy busy. It's Uber-season in the Hamptons, and there are many mouths to be fed in the Southampton, Bridgehampton and East Hampton manses. Usually, for private cheffing, the 2gourmaniacs double team the client's kitchen, and we bring our respective talents to bear on the evening's menu. Last night, however, we simultaneously cooked separate dinner parties. We can certainly say without fear of contradiction that we each outdid ourselves based upon a standing ovation at the end of Robert's meal, and hugs and a new booking in two weeks by the client after Rosaria's meal. One of the private chef perks, at least for us, is after the event, when guests come up to us and mention how much they enjoyed this or that, and they ask, "what did you use in that fish or this appetizer." It means, not only did they enjoy the meal, but they also found something that peaked their interest, enough to inquire about it.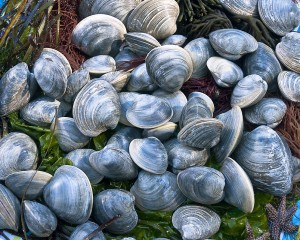 With that in mind, we are constantly looking for novel things to make, inventing new recipes, experimenting, and trying different techniques. Case in point, the 2gourmaniacs were recently spotted up to their waists at low tide in Shinnecock Bay scouring the sandy bottom with clam rakes, foraging for little necks, top necks and cherrystone clams. After an hour or so, and nearly a hundred clams later, we rode home and started talking about a new amuse bouche concept for an impending dinner party. It's our bite-size, palate pleaser version of a classic Italian "cucina di mare" or cuisine of the sea: spaghetti con le vongole. In this case, we put tiny pasta and chopped clams inside the clam shell, to be scooped up as you would a clam on the half shell, one delicious gulp at a time.

Ingredients
12 cherry stone (or top neck) clams
½ cup perline pasta, cooked (or other small pastas like orzo or stelle)
1 cup fish stock or clam broth
3-4 garlic cloves, minced
2 plum tomatoes, diced
2 Tbsp olive oil
Chopped fresh basil
Chopped fresh mint
Crushed red pepper flakes
Salt & Pepper, preferably freshly ground
2-3 slices lemon
Reserved clam juice (2-3 Tbsp)
Chervil or small parsley sprigs for garnish
Method
Cook pastina until al dente, drain and let cool. Steam clams for a few minutes in clam juice or fish stock, until slightly opened. Using a clam knife, finish opening the shells; detach the steamed clams and reserve some of clam liquid. Discard any impurities from the clam bodies and chop clams into small pieces. Clean the prettiest clam shells and, using a sharp knife, remove muscles from the inside shell. Warm up the olive oil in a small pan, add the garlic for less than a minute (do not let it brown), then add the diced tomatoes and chopped clams, and salt & pepper to taste. Remove from heat, add the cooked pastina, a couple of tablespoons of the reserved clam juice, red pepper flakes, and chopped herbs, and stir to blend. Transfer one tablespoon of mixture to the center of each clam shell, until all shells are full or mixture runs out – whichever comes first. The mixture can be chilled or served at room temperature. Before serving your mini pasta con vongole, add a quick squirt of lemon juice and garnish with chervil or parsley. Small bites, big taste.
RMA & RSA