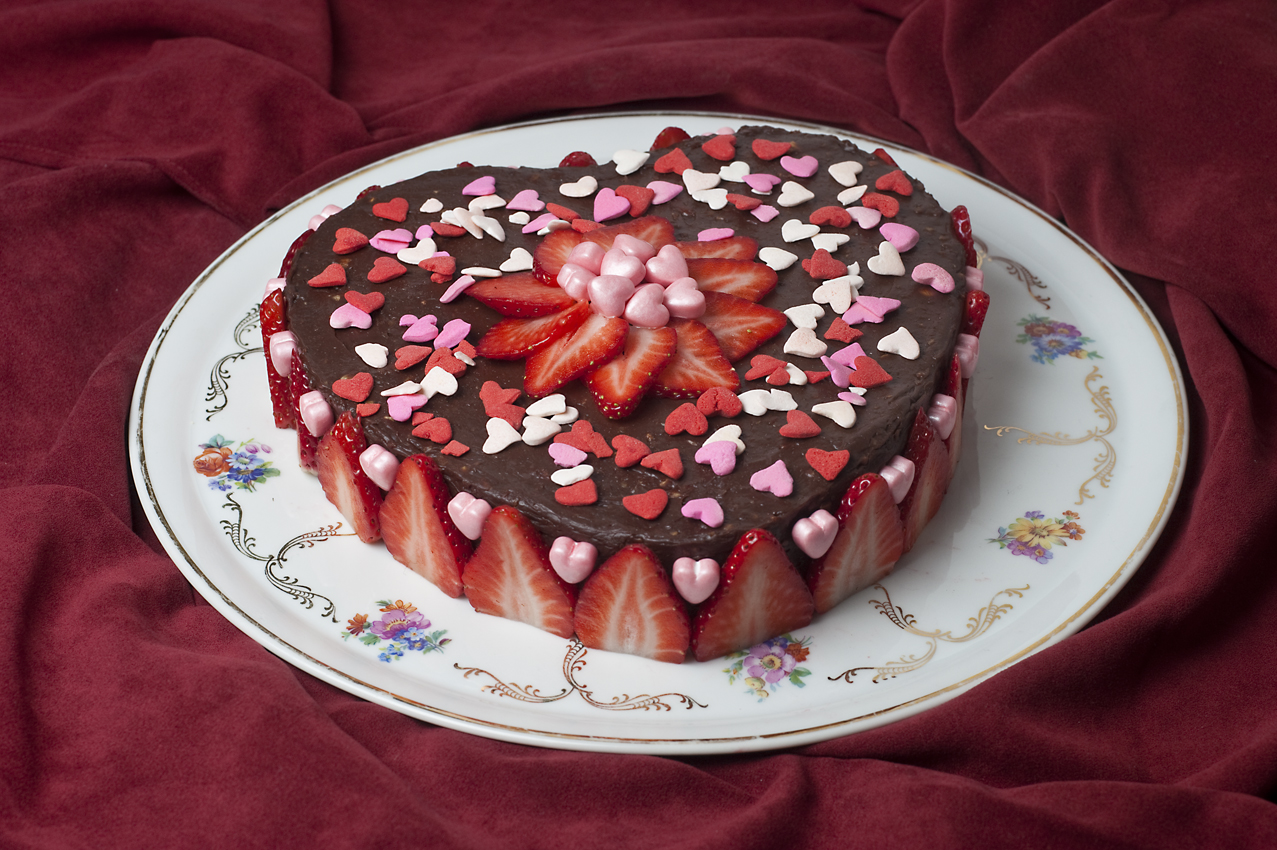 When I was thinking about making a Valentine's Day cake, I wanted a simple chocolate cake with an even easier frosting. I'm a big fan of genoise cakes and often I make involved French gateaux. But for this occasion I wanted something very simple. I decided on a "from scratch" devil's food cake with a Hershey's milk chocolate and almond bar ganache. And if you don't feel like making the cake from scratch, there's no reason why you couldn't use a store bought devil's food cake mix and use the milk chocolate ganache recipe below.
For the Chocolate Devil's Food Cake
Ingredients (For two  8 inch heart shaped cakes):
1 cup (82 g.) Hershey's unsweetened cocoa
1 ½ cups boiling water
4 large eggs, at room temperature
1 Tbsp pure vanilla extract
3 ½ cups (350 g) sifted cake flour (I use Swan's Down)
2 ¼ cups (450 g) sugar
1 tsp baking soda
1 tsp salt
1 ½ cups (12 oz, 340 g) softened, unsalted butter
Method:
Preheat oven to 350 degrees
Pour the boiling water over the cocoa in a mixing bowl and combine with a spatula until thick and smooth. Set aside to cool to room temperature.
In a second bowl combine the eggs with ¼ of the cooled cocoa mixture and the vanilla extract.
In the mixing bowl of a stand mixer, combine the cake flour, sugar, baking soda and salt using the paddle attachment, if you're using a Kitchenaid mixer. Then add the softened butter several tablespoons at a time and finally the remaining cocoa mixture. Increase the mixer speed to medium-high and continue to beat for two minutes. This develops the cake, and pumps air into the batter.
Lastly, pour the egg/cocoa mixture into the batter in three batches, and beat at medium-high speed for 30 seconds between each addition. Scrape down the sides of the bowl with a spatula, and give the batter one more 30 second beating at medium speed.
Pour the batter into two buttered and floured 8″ heart-shaped cake pans, and bake in a 350 degree oven for 30 minutes, or until a cake tester comes out clean.
Transfer cakes from oven onto a cooling rack for ten minutes, and then invert to remove the cakes. Invert the cakes again so the tops are facing up, and allow them to cool to room temperature.
For the Milk Chocolate Ganache
Ingredients:
7  Hershey's Almond bars (1 lb 3.2 oz, 544 g)
¼ cup Hershey's unsweetened cocoa
1 ¼ cup heavy cream
2 Tbsp cognac, Grand Marnier, or Kahlua
Method:
This has to be the simplest frosting in the world.
Grind the chocolate bars in a food processor with the cocoa powder. Make sure the almonds are rendered into tiny pieces. Empty the ground up chocolate into a mixing bowl. Meantime, bring the cream to a boil and add it to the bowl with the chocolate and cocoa powder mixture. Stir with a spatula until smooth. Add your choice of liqueur and blend well. Allow it to cool for an hour or so until it attains the required frosting consistency.
Assembling the cake
Ingredients:
One or two heart shape devil's food cakes (see above)
One recipe of milk chocolate ganache (see above)
1-2 qt fresh strawberries, depending on cake height, washed, stemmed and thinly slices, trimmed according to your cake's height
Heart sprinkles
Note: for the cake pictured above, I used a single cake layer. It's up to you to use both cakes with some ganache in between for a towering Valentine's Day cake, or a single layer for one like mine above. If doubling up on the cake height, you will need more strawberries for the the sides, or some giant ones.
Once the cakes have cooled, trim off the domed top with either a cake saw or a serrated knife. Frost first the top, then the sides with the chocolate ganache. Then take the sliced strawberries and gently press them into the sides of the cake. We just happened to have little pink hearts glitter candy so we pressed them into the gaps, between the strawberry tips (see picture). We then fanned out some very thin strawberry slices, like a flower, in the center of the cake's top, and filled the middle with more pink hearts. Finally, we scattered a package of colorful "heart sprinkles" over the top of the cake for a festive Valentine's effect.
RMA