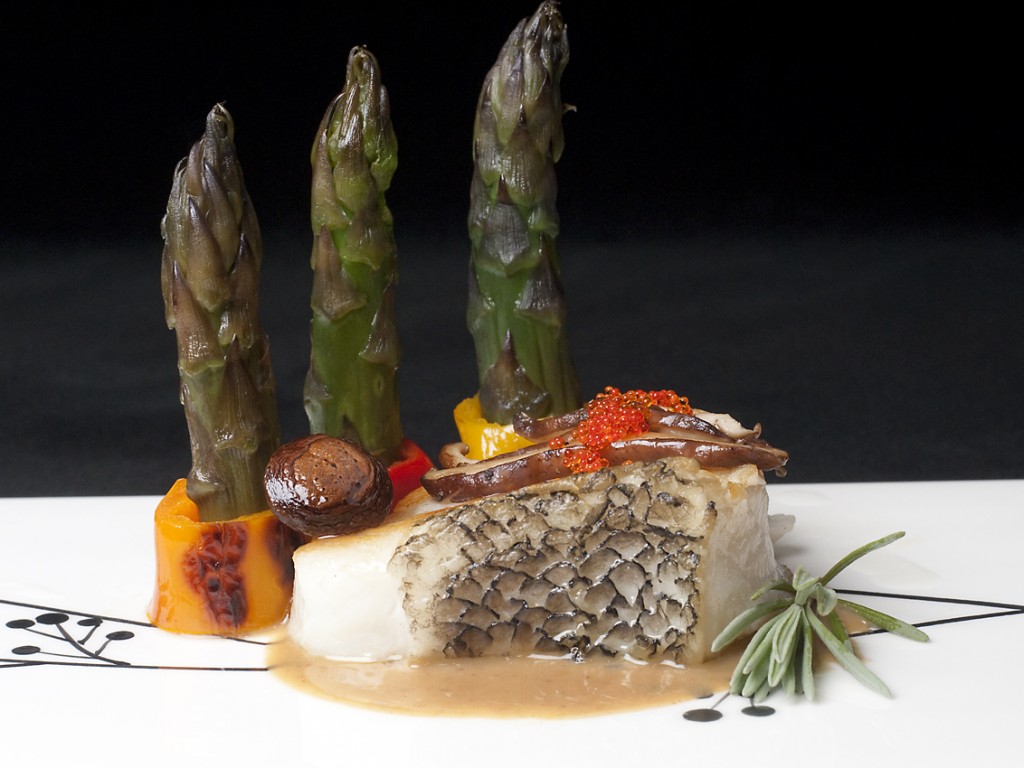 Here on eastern Long Island, Tuesday was an incredibly gorgeous day; abundant sunshine with temperatures in the 50's. Unheard of for the middle of January. So instead of packing up skis and boots and driving to New England, the gourmaniacs headed for Arthur Avenue in the Bronx to purvey meat, vegetables and fish. On the way we snagged my brother and sister-in-law, affectionately known as the BNL and the SNL.
No matter what else is going on in my life, a couple hours of food shopping on Arthur Ave. always leaves me happy and carefree. We stopped for prosciutto panini and Peroni beers in the Retail Market, in front of Peter's Meats.  While we tried to finish these huge sandwiches, the other gourmaniac was hard at work in Giuseppe's green grocery stand; triumphantly she unearthed purple asparagus and artichokes.
By the time we returned to Southampton it was eight o'clock, and I was still stuffed from the panini. Stuffed or not, I couldn't wait to get at the purple asparagus. Purple asparagus are 20% sweeter than their green and white cousins, and they have slightly less fiber.
I prepared this meal in less than twenty minutes. However, please note, I already had the uni-butter sauce sitting in my refrigerator, although to make it takes less than five minutes. Also, because we live on the Atlantic coast, Maine sea urchins are relatively easy and inexpensive to find during the winter months. If you can't find them, simply substitute a seafood béchamel sauce.
Ingredients  (Serves 4):
1 bunch purple asparagus-tips only (white or green is fine too)
6 sweet baby peppers, different colors, seeded and cut lengthwise into 12 strips
½ lb shiitake mushrooms
1 large sprig lavender
1 teaspoon red caviar
1 lb Chilean sea bass
1 cup uni-butter sauce (see separate method for its preparation)
1/3 cup olive oil
3 Tbsp canola oil
A very tiny shiitake, if available, quickly pan seared cap down (optional).
Method:
Quickly poach the asparagus tips in boiling, salted water.  Rinse in cold water, drain and set aside.
Sauté sliced mushrooms in 2 Tbsp olive oil for about two and-a-half minutes; set aside when done.
Lightly coat the baby pepper strips with olive oil and broil in small oven (toaster over is perfect), until slightly scorched.
Pan roast the Chilean sea bass in 3 Tbsp canola oil. Place the fish on one side and sauté for about three minutes (depending upon thickness; the 10 minutes per inch rule applies here.) Flip it over and pan roast the other side for 45 seconds, off heat, cover with a lid and let it rest for several minutes.
In the meantime gently warm the uni-butter sauce. It should have a thick consistency. Take care not to over heat or the sauce will break.
Method for Uni-Butter Sauce:
Place ½ cup of fresh sea urchins flesh in a small sauce pan with 8 oz. of softened, unsalted butter. Over low heat, mix the sea urchins with the butter. I use an immersion blender but rapidly employing a small whish will work. When combined, thin the sauce with several tablespoons of fish stock until you arrive at a creamy but flowing consistency (it should coat the back of a wood spoon evenly). Just before using, I add 2 Tbsp of fish sauce and Mirin, and 1 tablespoon of fresh lemon juice just give the sauce brightness. Keeps well covered, in the refrigerator for several days.
Plating:
Spoon a small pool of the uni-butter sauce at the center of warmed plates. Place the pan roasted Chilean sea bass pieces in the middle of the sauce pool and top with several slices of the shiitake mushrooms. Take the asparagus spears and wrap the bottom part of the stem with a strip of the scorched pepper and place, standing, next to the fish. Sprinkle the caviar on top of the fish and mushrooms, and garnish with a sprig of lavender and the tiny shiitake (if using). Love the presentation!
RMA